Peter Driscoll is a CrossFit Level 1 trainer and a physical-education teacher at Hartland Elementary School in Hartland, Vermont. He's also the founder of HES CrossFit, which operates out of a transformed kindergarten classroom in the school. The affiliate is helping the school's K-8 students gain strength and confidence through the integration of CrossFit into their daily lives.
Driscoll explains that when he brought research to principal Jeff Moreno "that showed him how movement positively impacted cognitive capacity and academic performance," Moreno decided to support Driscoll's efforts to build the program.
As a result, what began as a small initiative with six male students, some PVC pipes and a few kettlebells has grown into a school-wide movement. Students now take exercise breaks throughout the day and can choose to do CrossFit during recess or elective periods or after school with their teachers and peers.
"We believe in getting the kids out of their seats. We believe in getting the kids to think creatively, to learn to be learners, to learn to be thinkers," Moreno says.
Driscoll explains that they call the CrossFit room "the 'brain fit room' because students are learning that when they move, they're actually making their brains stronger and healthier, just like their body."
Moreno notes that the program also builds character:
"One of the most important things that CrossFit does is it builds confidence in a middle schooler and an adolescent and a young adult."
Like many entrepreneurs, Lindsey Barber changed careers to follow her passion.
Lindsey Barber gripped the wheel. Most of the 30-mile drive between Unity and Cut Knife, Saskatchewan, is open road, nothing but 360-degree field and sky, and she tried to enjoy her morning commute to a job she disliked.
She pulled into the small lot outside the chemical-and-seed supply company where she worked as a sales agronomist. Some days were spent loading pallets of seed and chemicals onto trucks; others found her visiting surrounding farms and meeting with growers. Mostly, she had to sell—fertilizer, pesticide and seed.
"(My) job was basically to get the farmers on our program to buy as much product as they can, telling people what they need to hear just to make the sale," Barber said.
But Barber hated selling. She felt dishonest pushing products farmers didn't really need and felt "like I was serving no purpose in the world," she said.
She cut the ignition and sat in her car, fighting tears and unable to will herself to go inside. She never thought work would be like this.
"My parents always said if you really like what you're doing, then work won't be so bad," she said. "And I knew that this was not something I wanted to be doing forever, that there had to be something more for me to do. But I just could not come up with something that I would love to do enough to do it for the rest of my life."
In 2011, a year into Barber's agronomy position, she noticed an unusual picture on her boyfriend's Facebook feed. It featured a woman doing a one-armed handstand—"and she had abs," Barber added.
Barber messaged the woman, asking what she was doing in the photo.
CrossFit, she replied.
By Jon Gary and Todd Widman

The "CrossFit Kids Startup Curriculum" is to be used in conjunction with the information provided at the CrossFit Kids Trainer Course. The document contains two months of programming for each age group. While the "Training Guide" directly supports the CrossFit Kids Trainer Course and program, the goal of the "CrossFit Kids Startup Curriculum" is to provide programming that allows trainers to more easily start a new program or enhance an existing one. This curriculum is also designed to serve as a resource, assisting you in integrating aspects from the CrossFit Kids Trainer Course into classes every day.
The programming presented here was developed by the CrossFit Kids Staff and field-tested in gyms across the country. The 10 foundational movements of the CrossFit Kids program will be covered in a compressed fashion while still adhering to their age-appropriate inclusion; the intention is to provide a broad base of capability and capacity over the course of two months. Ideally, each of the foundational skills—introduced here for one week—will subsequently be the focus in a four-to-six-week period.
CrossFit understands the potential of this program is not limited to CrossFit affiliates around the world; the program is and can be a very effective addition to physical-education (PE) classes. To that end, the "CrossFit Kids Startup Curriculum" also contains information relevant to the scholastic setting. The expectations we have for the individuals in the various age ranges are consistent and overlap with standards put forth by the National Association of Sport and Physical Education (NASPE). Skill inclusion and assessments may be further honed depending on specific state requirements.
The CrossFit Gymnastics Trainer Course sets athletes up for a lifetime of strength and movement.
"I've got a 70-year-old man who took our course eight years ago who's almost got a full iron cross," said Jeff Tucker, subject-matter expert of CrossFit Gymnastics. "He's 70-plus years old now, and he's still working his iron cross."
And just as the septuagenarian has strived for almost a decade to perform an iron cross, Tucker and his team have worked to improve the 16-hour CrossFit Gymnastics Trainer Course over the last nine years.
Tucker explained that the course has grown organically since its creation in 2007. The two-day seminar constantly but quietly evolved as Tucker and his staff evaluated ways to improve, and significant adjustments have been made over the last year in response to post-seminar feedback from attendees.
The course has always focused on basic strength and how to coach, spot and scale gymnastics movements performed on the floor, parallettes, rings or bars. That hasn't changed, but Tucker recently reviewed the flow of the entire weekend and looked for ways to make adjustments based on self-assessment and community feedback from surveys of the course. Currently, he and his team are reworking the syllabus for future courses.
For instance, the planche is one element that is now demonstrated but not instructed in great detail, allowing the CrossFit Gymnastics trainers to spend more time on other movements requestedby the community in the past year.
"Rather than spending a lot of time on what frankly is an advanced movement, we're going to kind of use it as a piece to show where all of our course can go. … We've decided to put more information into handstand development, handstand walking, handstands on elevated platforms like parallettes," Tucker said.
The seminar will also place greater emphasis on pistols/one-legged squats, rope climbs and additional kipping progressions, including progressions for butterfly chest-to-bar pull-ups.
While many people immediately skip ahead to the end of the progression and want to bang out large sets of butterfly pull-ups, the key is where the progression starts. You lay the tracks very carefully before racing a train across them at speed.
"Any movement we do in gymnastics, it's always going to be rooted by the basics—how do we coach the basics, how do we cue the basics, how do we develop the basics?" Tucker said. "Furthermore, it's about strength and form development before speed."
Kipping progressions are a part of the CrossFit Gymnastics Trainer Course, but the focus is always on strength and form before speed.
Recall the novice's curse, as detailed in "Virtuosity" by CrossFit Founder and CEO Greg Glassman, a former gymnast. Far too often, athletes try to snatch before they can perform a good overhead squat, and the gymnastics world is no different: How many people who are trying to walk on their hands can hold a solid handstand for 30 seconds?
With that in mind, the CrossFit Gymnastics Seminar is designed to give athletes the solid foundation they need for long-term success.
"Before you even lift a barbell, what do you have to do?" Tucker asked. "You have to know how to address the bar before you put weight on it, before you lift that bar and drop your ass under it and stand up with it. There's so many nuances."
In gymnastics, it starts with little things such as how to grip a bar properly, how to engage the right muscles, how to achieve the correct positions, how to build strength for strict movements and how to add momentum. For athletes who have a good foundation including the required strength, Tucker and his staff will find ways to ramp things up and build more strength in body-weight skills.
At the CrossFit Gymnastics Trainer Course, attendees learn how to develop strength and body control as athletes, and they also learn how to instruct and spot when coaching.
For example, an athlete who can't perform a pull-up will be taught exactly how to work toward a first rep, while an athlete who can do 50 pull-ups will work on strict reps in a hollow-body position. If that's too easy, he or she can work on pull-ups in an L-sit. And so on. Difficulty can always be increased by tweaking the movement's load or leverage requirements, making athletes stronger over time.
"The movement is the same for the beginner and it's the same for the individual that's been competing. The difference is going to be how we load it or the length of time spent in an isometric hold, along with repetition of any skill," Tucker explained.
Learning how to activate the correct muscles is a basic step many athletes bypass, but it is fundamental to success in gymnastics.
Overall, the weekend is designed to lay or reinforce the groundwork and point athletes in the right direction for constant improvement. And in gymnastics, the wealth of movements and the near-endless variations ensure athletes can spend a lifetime getting stronger and learning to control their bodies with skill.
"This is their beginning journey. You don't come in a weekend and—boom!—you're a gymnast or gymnastics trainer," Tucker said. "This is your beginning journey towards body-weight training and body-weight movement, and there's always going to be something more to learn and improve on."
He added: "Throughout the weekend, my hope is that by the end of the close on Sunday that everybody has a better understanding of how to do the basics, how to spot the basics, how to cue the basics, and how we ramp that up."
For an older athlete who took the course in 2008 in Australia, ramping things up meant spending more than 2,900 days working on an iron cross.
What gymnastics skills could you learn over the next eight years?
 CrossFit athletes talk about their shift from aesthetic to performance goals and how they learned to be happy with the results.
In June 2016, a group of athletes ran hill sprints as part of Reebok CrossFit One Training Grounds, an invite-only camp for CrossFit Games qualifiers.
It was hot that day. At the top of the hill, after the sprints were done, seven of the women posed for a photo. Six of them had their shirts off. Ben Bergeron, one of the coaches in attendance, took the photo and posted the picture on Instagram.
Jamie Hagiya, a first-time Games qualifier, saw the photo, and instead of looking with pride at her place among an elite group of athletes, she only noticed one thing: her stomach.
"I'm standing next to Jen Smith, and Katrin (Davidsdottir) is in the photo, and Christy Adkins, and all these women and their abs are crazy," Hagiya said.
"'I look disgusting,'" the Games athlete said to herself.
Then she stopped.
"This is ridiculous that I'm comparing myself to these girls," Hagiya said she thought next. "It doesn't mean that I don't work hard."
A few days later Hagiya took to Instagram herself:
"My body does not look like all the other @crossfitgames female athletes with crazy ripped abs and zero body fat on their stomachs. I wish I could look like that, but I've come to the realization that this is my body. … But the bottom line is I need to eat to perform. I can't worry about trying to look like a (Games) athlete because having a six pack doesn't always make for the best athlete."
Many people join a CrossFit gym hoping to make aesthetic changes but then discover it's much more interesting to learn how to do a muscle-up or increase squat numbers. However, this newfound focus on performance rarely means athletes completely abandon aesthetics.
We all care about how we look, and our feelings about our appearance can vary depending on the day, our mood, and the Instagram post.
CrossFit is a core strength and conditioning program. We have designed our program to elicit as broad an adaptational response as possible. CrossFit is not a specialized fitness program but a deliberate attempt to optimize physical competence in each of ten recognized fitness domains. They are Cardiovascular and Respiratory endurance, Stamina, Strength, Flexibility, Power, Speed, Coordination, Agility, Balance, and Accuracy.
The CrossFit Program was developed to enhance an individual's competency at all physical tasks. Our athletes are trained to perform successfully at multiple, diverse, and randomized physical challenges. This fitness is demanded of military and police personnel, firefighters, and many sports requiring total or complete physical prowess. CrossFit has proven effective in these arenas.
Aside from the breadth or totality of fitness the CrossFit Program seeks, our program is distinctive, if not unique, in its focus on maximizing neuroendocrine response, developing power, cross-training with multiple training modalities, constant training and practice with functional movements, and the development of successful diet strategies.
Our athletes are trained to bike, run, swim, and row at short, middle, and long distances guaranteeing exposure and competency in each of the three main metabolic pathways.
We train our athletes in gymnastics from rudimentary to advanced movements garnering great capacity at controlling the body both dynamically and statically while maximizing strength to weight ratio and flexibility. We also place a heavy emphasis on Olympic Weightlifting having seen this sport's unique ability to develop an athletes' explosive power, control of external objects, and mastery of critical motor recruitment patterns. And finally we encourage and assist our athletes to explore a variety of sports as a vehicle to express and apply their fitness.
Affiliate owners share how they're tailoring their approaches to introduce Baby Boomers to CrossFit.
The loud music, the intimidating movements and the unbearable crash of barbells smashing the floor—none of it appealed to Lucia Bragan.
"My husband had been doing CrossFit for four and a half years, and I would go watch sometimes. I knew I wasn't capable of doing what he was doing," said the 77-year-old from Maryland.
"And they played really loud music with that heavy beat. I guess it charges the younger folks up and gets them going, but for me it was a turn-off. I wouldn't be able to hear the coach."
Needless to say, Bragan had no intention of ever following in her husband's footsteps by joining Rock Creek CrossFit in Kensington, Maryland—at least until coach Trina Kerns approached her in September 2015 and offered an alternative. The process would start with a face-to-face introductory session at a time when the gym was quiet and empty. No loud weights. No blaring music.
Bragan decided to take Kerns up on her offer. The two met up and discussed Bragan's health history, and then Kerns put her through a short fitness assessment.
Bragan remembers being intimidated and somewhat overwhelmed, but Kerns was with her every step of the way, which made her more comfortable, she said. Soon, Bragan realized CrossFit—and lifting weights—wasn't as scary as she thought it would be.
While Bragan said she wouldn't have joined regular classes, many masters athletes thrive in general sessions that welcome everyone from teens to those well beyond 50, and great coaches are able to modify workouts for athletes of very different levels in a group setting. Some affiliates, however, are finding success creating entire programs that are tailored to help groups of Baby Boomers use CrossFit to stay fitter in their Golden Years.
5 Reasons You Still Suck at Muscle-ups
Training to get a muscle-up is like two people trying to build trust in their relationship after one person cheated on the other: A tedious and delicate process, often frustrating and painful, that requires patience and commitment.
Nobody knows this better than expert gymnastics coach, and former Regionals and CrossFit Games competitor Louise Eberts, who has worked, and helped, many top-level athletes on their gymnastics—including the current 8th Fittest Woman on Earth Emily Abbott.
Eberts can help just anyone get a muscle-up, but the athlete must be willing to truly commit to the cause, she explained. She believes the biggest mistakes muscle-up seekers make are:
5. Skip the Strength Work
"So many people want to skip the strength work because it sucks. A lot of people get aggravated when I ask them to work on their strict strength first. I am usually met with eye rolling or a groan," Eberts said.
She added: "Yes, strict strength is paramount. Strict chin-ups, strict pull-ups on bars and rings, ring dips, lat exercises, DB exercises. Yes, bicep curls help. There is a reason Sam Briggs is called 'Bicep Briggs,' and her muscle-up are good!"
4. Skip the Dirty Work
"Not learning progressions specifically geared toward muscle-ups is a very common mistake. A lot of athletes just keep trying to entire movement, throwing themselves toward the rings in hopes of success, and they keep failing, rep after rep after rep," Eberts said
It's important to do progressions and kipping and transition drills, and pieces of the movement, to help create correct muscle memory, strength, coordination and power throughout the movement, Eberts said.
"They show important points of performance for the swing and transition phases of the muscle-up," she said.
3. Skip Structure
"A lot of people come to me after months, or even years, of just winging it, with no structure, zero program, or a coach that says, 'Just do it,' and that's it," Eberts said.
She added: "Looking up progressions is awesome, and doing strength work is essential, but if you do not know how to put it into an organized program, it can just end up being frustrating.
By organized program, Eberts means following a progressive program—with pulling and pushing strength work, kipping practice, drills and accessory work etc—where each week, and each month, builds on the one before.
2. Skip a Coach
Even athletes who can do 10 muscle-ups in a row still get coaching on their muscle-up. It's a technical skill, and there's always room for improvement, Eberts said.
"Finding a good coach to create a solid program that is clear, concise and not overly time-consuming or complicated can make the process of achieving your first muscle-up way quicker," she said.
When she coaches her athletes, she uses a very hands-on approach.
"Spotting is huge and it gets you doing the entire moment for multiple reps," she said. "I have coached gymnastics for seven years at every level, and all the athletes I have worked with, from age 2 to 40, get spotted for movements…over and over again."
Spotting, like progressions, help with muscle memory, Eberts explained. "And you gain strength throughout the movement because the amount of effort the spotter puts in can be lessened over time."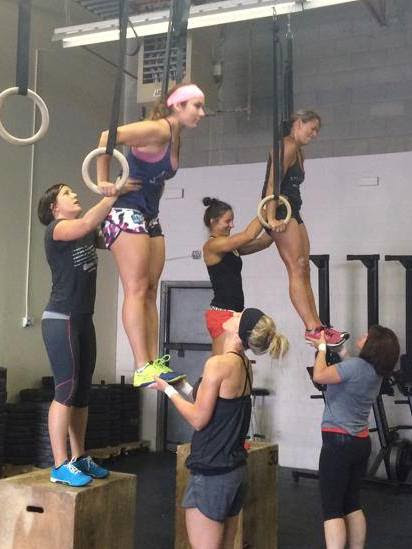 1. Skip Patience and Perseverance
"Many talk the talk, or they say they want a muscle-up, but actually getting one takes a lot of time and effort," Eberts said. "I can't tell you how many people messaged me during the Open (last year) in a panic because they wanted to get a muscle-up in four days. Four days!!! I always find that mind boggling."
Instead, Eberts reiterates the importance of a long-term commitment, even after a muscle-up is achieved.
"I am always so excited for people to get the elusive muscle-up, but when they do (get one), I usually ask them, 'Are you ready to keep this going?' she explained, adding that just because you did a muscle-up once, doesn't mean it's time to abandon progression and strength work.
"Now you have to do one in a workout that might have 20 thrusters right before it…So keep getting stronger, keep getting better at the movement through routine, practice and progressions."
The process never ends.
Training Tips: From Wreck to Recovery
By Shane Upchurch
On Aug. 8, 2015, I was hit on my motorcycle by a box truck that ran a red light. I suffered degloving of my lower left leg, three displaced ribs, a bruised lung and swelling of the brain. I spent one month in a hospital and underwent a free flap transplant to my lower left leg, a crainiotomy and a few other smaller operations. After I was released from the hospital, I spent about five weeks on a couch resting. I finally began working with a physical therapist, and in the begin – ning I mostly rode the Airdyne before doing my therapy homework.
After being cleared by my doctors for all activity, I began working my way back to CrossFit-style training. After all, it was arguably this fit lifestyle that helped me bounce back in the first place. In dealing with my return to CrossFit, I've learned a few things I think would be beneficial to other coaches and athletes who are coming back from an injury or even just a lot of time off CrossFit. I narrowed my experiences down to five concepts that have helped me the most.
1. The New Normal
When I returned everything felt heavy. My form was garbage at any moderately heavy weight, and it was frustrating and misleading to think of what I had been able to do only months before. I had to quickly learn and accept that my normal was now different than before and would never be the same again. Accepting this fact was actually very relieving because it removed all preconceived notions of what I could and couldn't do.
The new normal will be harder for some clients to accept, but the sooner they do, the sooner they'll progress. Depending on the injury they're coming back from, they might never have the body they used to, and they might not be able to do what they could before. That's OK. We can call it bad or good, but it really boils down to what you have to work with in the moment. If you're caught up on what you used to have or what you will have in the future, you'll never really improve the version of you that is available right now—which is all you really ever have.
This acceptance also gives you a blank logbook to begin tracking your progress. That means PRs every day—at least for a while— so enjoy the journey, acknowledge the victories, and respect the athlete you are today.
2. Volume
Soreness is big factor in coming back from an injury. If you make returning clients so sore that their next days are impossible, they won't come back. More discomfort is the last thing they want.
It's better to play it safe than push the envelope too soon. Depen – ding on the injuries or how long the clients have been out, some movements and loads might be accessible but leave them so sore that they're unable to train. Remember, the goal is to get them to a point where they can exercise and help recovery, not to train at a volume that best prepares them for competition.
In my situation, I started out by staying around the 30-rep range. I also started at very light loads and worried more about positions and full range of motion. Over the course of a week or two, I would bump the reps up by 15-20, and during the following week or so, I would also increase the load slightly. I continued until I could do most CrossFit workouts without being excessively sore for the next few days. I entered the CrossFit Games Open this year with a goal of doing everything as prescribed, and I made it, finishing in the top 40 percent of my region.
3. Strength and Range of Motion
An athlete who is coming back from an injury will probably have some sort of movement restriction, and full range of motion trumps strength 90 percent of the time, especially if we're trai – ning to be better at life. I had a lack of dorsiflexion in my left ankle, which made it very difficult to go deep into a squat and keep my chest up.
Some days I would throw air squats into a conditioning session and work to a butt target I eventually eliminated. Other days I wanted to work more on strength, even if it was only in a partial range of motion. For squats, I would use a box. I have a client who is recovering from back surgery, and we sometimes work with a trap bar to get him in a better position with a load. Other times we go with empty-bar deadlifts and focus on increasing range of motion.
As range of motion improves, continue to challenge strength in the new range. The end goal should always be a full range of motion with progressively heavier weight, but don't let the pursuit of full range of motion deter you from lifting heavy at times.
This brings up max lifts. I would never max out in a shortened range of motion, and I didn't truly max any lifts for several months after returning to activity. I would often find a weight that challenged my technique, and I made sure it was as heavy as or slightly heavier than what I had done before for a similar rep scheme. This kept me progressing at a consistent rate and prevented any new injuries.
4. Perfect Positions
Let's be honest: Once you've achieved a certain level of strength, it's really hard to go back to the basics. Returning from an injury is a great time to do just that. We're not training for anything in particular, we need to take it slow, and our conditioning is garbage anyway, so the idea of high intensity seems silly. We also know that perfect positions make a stronger athlete, so why not strive for those positions?
I've often said that the best part of returning from ground zero is that I have no excuse not to work on perfecting movement patterns, and I'll bet I end up stronger because of it. Scott Brayshaw I spent a lot of my warm-up time working on perfecting positions and dealing with different mobility issues, performing exercises such as hollow holds, wall slides, squat holds, single-arm and single-leg work, stability drills and more.
I found Interval Weight Training worked perfectly for this because it allowed to me to work on quality lifting at low intensity, with a more basic movement at high intensity to follow.
Interval Weight Training was created by Pat O'Shea, and the basics involve lifting 5-8 reps at 70 percent perceived exertion, then following up with 1-2 minutes of all-out intensity on another activity. Rest 1-2 minutes and repeat for 3-5 rounds. In the original format, you would then rest 5 minutes and repeat with new movements.
A typical workout for me looked like this:
3 rounds of:
6 low-hang box power cleans
90 seconds for max calories on an Airdyne
Rest 2 minutes
Rest 5 minutes
3 rounds of:
8 trap-bar deadlifts
60 seconds for max calories on a ski erg
Rest 2 minutes
This system allowed me to focus on hitting good positions with submaximal weights while slowly increasing volume, and it also developed conditioning. Interval Weight Training wasn't the only thing I did, but I added workouts like this into my training, and I still do them.
5. The Big Picture
I couldn't do a number of things when I first got back to exercising—double-unders, for instance. Jumping rope at all was a chore, and it didn't take long before I caught myself falling back into old habits and creating plans for how I would conquer double-unders immediately. But why? If my goals were to get back to a level of fitness similar to what I had before and to be able to do things in life without special preparation, why did it matter?
I found that a better approach was addressing weaknesses as I found them, just as I would attack a chipper. Only making a start is needed this very moment.
I began with single-unders in warm-ups, and I kept an eye on volume levels to make sure I wasn't making any huge jumps. Over time, I tried a few double-unders with almost zero success, and then a few group workouts came up with a format that allowed me to try them again. This went on for a while. Finally, during a workout that had athletes running 400 m and then doing double-unders, I strung together 9. I didn't get any more in later rounds, and that was OK. Then in Open Workout 16.2 I got 50 in a row!
The Long Game
It's very easy to get overwhelmed with all the areas for improvement in CrossFit, and we can quickly fall into the trap of wanting to fix everything today. Viewing goals on a much larger timeline really helps keep things in perspective and keeps me from getting carried away.
I plan to live to 100, so that leaves me 68 years to keep working on the things I can't do today. If your goal is to win the CrossFit Games, then your approach is going to be much different, but for most of our clients the 100-year approach will work very well.
About the Author: Shane Upchurch, CF-L3, is a coach at CrossFit Roots in Boulder, Colorado. He's been involved with CrossFit for 10 years, and he's coached for seven of those. His accident opened his eyes to the beauty of the CrossFit community, and he continues to chase his passion of a healthy lifestyle through activity and nutrition. He and his wife are believers in the Paleo lifestyle and plan to have a farm that will allow them to provide real food to their family and friends.
Theresa Couture uses CrossFit to rebuild her body after suffering a stroke.
Theresa Couture fell out of her wheelchair in her kitchen, sending the chair flying across the room. As she lay there, home alone, she knew she didn't have the strength to drag herself to the chair and get back in it.
"That was the final straw for me," said Couture, who has mitochondrial disease (mito), which manifests itself through dysautonomia, strokes, muscle weakness, and neurological and stomach issues.
She decided to give CrossFit a try in October 2015—with the goal of being able to get back in her chair from the floor.
"Now I get out of my chair and onto the floor and back into my chair without assistance," said Couture, a founder of the nonprofit MitoAction, whose mission is to improve the quality of life for everyone who lives with mitochondrial disease.
Couture has been wheelchair-bound since March 23, 2015, after her last stroke. She has had strokes before and always recovered, but this one was different: It left her unable to move her legs because the area of the brain that helps her move took the hit.
"I could feel my legs but I couldn't make them move," Couture said.
Couture started physical therapy right away after the last stroke. Meanwhile, her daughter, Brianna, who also has mitochondrial disease, was doing CrossFit and making wonderful strides. She encouraged her mom to give it a try, telling her she could strengthen her arms, core and back.
"You always taught me you can't live like you're waiting to die," Brianna told her mom.
With the kitchen incident burned into her mind, Couture headed to CrossFit Wingman in Agawan, Massachusetts, for an interview. The first things she noticed were handicap parking and a handicap ramp—both great signs. One of the coaches, Aaron Zanchi, interviewed her—and she interviewed him.
"He asked me (about) my goals, what I could do from the chair, and (for) information about how my disease impacted me," Couture said. "As a former ICU/trauma nurse, I was duly impressed. He was educated, welcoming, thoughtful, and proactive in his interview and in his approach to developing a plan.
"What was new for me was the focus on what I could do, not what I couldn't do. That's a different model. That question brought it positively forward."

CrossFit: Infinitely Scalable
Zanchi spent two weeks working privately with Couture first to establish her baseline and see what she was capable of before she started attending group classes and working with another coach. Couture's coach, Zachary Betta, explained CrossFit is universally scalable, inclusive and adaptable to athletes of all abilities.
In December, after just two months of CrossFit three times a week, everything was different from when Couture started, Betta said. In the beginning, Couture was using 2-lb. hand weights and her movements were very, very small. She also didn't get out of her chair at all. Just two months later, she was lifting a 45-lb. barbell. And she got out of her chair, got on the floor, did adaptive sit-ups, got back in the chair and went to the next station.
She even stood up out of her wheelchair—twice—on her own power, an accomplishment chronicled in a video taken by Betta and posted on the CrossFit Wingman Facebook page. As of press time the clip had almost 900,000 views.
Previously, Couture had been unable to stand or walk, with even the smallest movements resulting in severe muscle spasms and tremors. But because she's so much stronger now, she stood up with no leg spasms at all.
"That moment was in the middle of a workout when she was tired," Betta said. "It was an amazing moment for all of us."
Couture admitted that some days her workout is just getting dressed, transferring to her chair, getting in and out of the car, and getting into the gym.
"On those days, I cheer on others. But I don't let it get me down," she said.
Betta has learned to read Couture's demeanor when she comes in the gym and adapts the day's workout accordingly.
"If she has lots of energy, I know it's a good day and she can work hard and make progress," he said. But he also knows if she works hard one class, she may be tired the next. On those days, they will work from the chair to increase her competence and strength in the chair.
Couture constantly challenges herself.
"It's easy to throw in the towel," she said, "but the more you do, the more you can do."
Betta agreed: "Every time she comes in, she does something new. Her adaptability is incredible. And a big piece is her attitude and unwillingness to give up. She works her (butt) off. She has never missed a day. She's been this ball of positive energy. I've never seen her be negative about anything."
Her coach also noted Couture is close with a regular group of workout partners—something very common in CrossFit gyms.
"The power of community helps me feel engaged; it helps my body, mind and spirit. You need a community of people to lift you up when you're feeling down," Couture said.
CrossFit, Exercise and Mito
Any endurance or fitness athlete is familiar with the term "mitochondria" because the tiny cellular component is solely responsible for all the energy we need for proper cell, organ and body function. In addition, mitochondrial adaption to high-intensity exercise training is known to be responsible for improvements in VO2 max and lactate threshold.
"The benefit of exercise for patients with any chronic disease seems logical since it may improve overall physical and cardiovascular conditioning," said Dr. Eduardo Balcells, cardiologist with Mountain States Health Alliance; CrossFitter at Iron Mountain in Abingdon, Virginia; and father of a child with mitochondrial disease. "Patients with mito, however, have dysfunctional mitochondria and are therefore unable to effectively produce 'cellular energy,' which then affects body parts such as muscle, brain and GI tract—all of which are energy-demanding organs.
"Exercise for people with mito may then seem counterintuitive due to the limited energy production and possibility that exercise may then use up all the limited energy available."
However, exercise is known to increase the number of mitochondria in our muscles and other organs, and in mito patients this means more healthy mitochondria—more energy. Exercise is exactly what mito patients need, Balcells said.
"In the mito world, people give up on being active," Couture said. "The fear of something bad happening keeps people from living their life."
Before the wheelchair, Couture said her life was very small: Fatigue would prevent her from performing everyday tasks such as going to the grocery store. Thanks to CrossFit, Couture now lives a full, strong life.
"I've become more safe (in the wheelchair). It's empowering me to have a positive life. I feel more engaged in my life," she said.
She added: "Exercise is hard for mito patients, but little activities over time add up to big gains."
Couture encouraged mito patients to find an activity they love and do it.
"It's counterintuitive to think that the less you do, the more you'll be able to do. You have to keep moving. Your body loves motion, even if you have mito. You have to behave (in) your life as if you're going to live. If you don't do that, you set yourself up for failure. You have to re-engage in life to become a part of life."
She continued: "Embrace life. When life kicks you, regroup, reorganize and start again. Keep moving forward. Do what you can do and do it to the best of your ability."
About the Author: Ginger DeShaney is director of operations and support for MitoAction, a nonprofit organization whose mission is to improve the quality of life for children, adults and families living with mitochondrial disease through support, education, outreach, advocacy and clinical research initiatives. DeShaney was a journalist for 24 years before joining the nonprofit ranks. For more information about mitochondrial disease, please visit Mitoaction.org.